In this blog post, I want to share my experience traveling in Northern mountainous Italy, Dolomites. Undoubtedly, the main reason to visit is that places are incredibly amazing. But the goal of the blog post is not to describe their beauty, but give advice on the route and practical tips (I wish I would have known it before the trip).
Why Dolomites?
Summer 2020 is not a usual vacation summer. COVID-19 changed people's plans and travel ambitions. Usually, when traveling in Europe, I don't plan vacation well in advance, because distances are relatively short and there are lots of options available if booking in about 2 weeks. The similar story was during this summer, but for another reason. When choosing where to go, we also looked at infection rates in countries (to avoid two weeks quarantine after arrival back in Estonia) which were fluctuating a lot.
So after some consideration, Italy was chosen as an option. First, I wanted to get some warmth, swim in warm water, and get some sunburn. Second, Ryanair had direct flights from Tallinn to Milan/Bergamo at reasonable prices (about 130 EUR two-way ticket per person without luggage). Third, Italy was in the green zone by the number of infected cases. And last, but not least, I wanted to continue yearly visits to this country (it was the fourth year in a row to come to Italy, every time to different parts).
After watching Youtube and googling, I started to think more about the Dolomites. Magnificent pictures of mountains, lakes, alpine meadow helped to make a decision. Dolomites trip, let it be.
Preface
We flew to Bergamo, rented a car there. Before taking off in the North-East direction, we spent two days on Lago di Como to sunbathe, eat pizza and enjoy the hot sun. Let's call it day 0 when we packed our sun-bathing clothes and headed from Varenna to the Trento region. After a 250 km drive, we arrived at Verla, a small village to the North from Trento, which was our starting point to the Dolomites.
Practical info:
When renting a car, check it carefully for all scratches/dents and ask the renting manager to mark them in a contract. In addition, we always make photos and videos.
Italian highways save lots of time. Although you need to pay, the price is relatively low. The max speed is 130 km/h, after Bolzano (aka the capital of the Dolomites region) the road became more winding with a max speed of 110 km/h. Be aware of tracks, sometimes they try to overtake others by suddenly popping up from first to the second lane.
Day 1 – Seceda mountain
In the first half of the day, we drove from Verla to Santa Cristina Valgardena – the starting point to summit mountain Seceda. After doing some groceries in Bolzano, we reached the village at about 2 pm.
The route to the summit is 7 km one way, 1 km ascent. It took us about 4 hours to get to the top (2 hours to descend). We made stops to film from a flying drone, to wait when rain finishes, to rest. There are about 5 rifugios (a mountain huts) on the way (one of them was working in the evening). Nature is picturesque, with lots of animals: cows, rabbits, donkeys.
Arriving at the top on the sunset time is amazing. We were lucky to see surroundings without clouds, rains and fog. Another advantage of late hiking: so few people around. There were only us and a group of Polish girls.
Practical Info:
Parking in Santa Cristina Valgardena is difficult. There are special parking areas, but they are limited to 1-2 hours (although they are free). In addition, in front of almost every shop, restaurant, hotel there are parking slots, only for guests.
Luckily, we found one here (for about three cars) – free, without limits, no additional signs.
[Remark: One of our Airbnb hosts warned us: white marks for parking are free, blue are paid, yellow are forbidden zones]
There are also cable cars till the very summit, directly to the summit from the next village Ortisei (25 EUR one way, 34 EUR both ways).
The restaurant on the top is working (but limited time, from 8:30 AM to 5:30 PM), otherwise bring your own food and water.
Polish girls took a tent with them and planned to spend the night somewhere on the mountain. Although it is not allowed, in the darkness of night there is a small chance that a tent will be discovered if you pack up early in the morning.
When descending at night, narrow paths are poorly visible. Don't forget to bring a flashlight (headlamp is the most convenient for such cases).
Plan your night stay at least a couple of days in advance. Hotels and Airbnb's have few places available, and it is hard to find a place with late check-in, not mentioning that prices are expensive (minimum is 80-90 EUR for two persons per night while in other parts of Italy it would be at least twice less). For this night, we didn't manage to find a good place, so we spent a night in a tent (in some random forest near campervans' camping on our way to the next place).
Day 2 – Lago di Braies
Lago di Braies is the most beautiful lake in the Dolomites. And the most popular. We arrived there at 7 am (when only people with professional cameras are there) and watched the rays of the dawn sun reflected from the mountains on the surface of the lake. We spent about 6 hours hiking around, having a picnic, sailing a wooden boat.
Practical Info:
Parking costs 5 EUR first hour and 0.5 EUR each next hour. Arrive there before 10 am (the earlier, the better), otherwise, you will need to leave the car 10 km before the lake and take a bus (ticket about 5-10 EUR, depends on the bus company).
Drones are not allowed, but I saw some.
The queue to take the boat can be long, but we waited only 10-15 min. It was funny to see many available empty boats and no spaces in cafes during lunch time (make a note of this). We rented a boat for one hour, nobody checked how much time we spent on the water.
There are numerous wooden tables and benches on the way around the lake. In case, you want to sit and have a picnic, be aware of cows (one of them was trying to eat my spinach pie).
Hotels around the lake are very expensive (the hottest one on the lake shore costs about 500 per 2 persons per two nights). Take into account that many hotels have a minimum stay of two nights. There are more hotel options ('chalet' types) in the direction of Bruken. We stayed in Gais village – a 40 min drive from Lago di Braies.
Day 3 – Flight, Pyramids of Earth, Tre Cime
/
We stayed in Gais to be as close as possible to the flying field for paragliding flight on the sunrise. The starting point was a 10 min drive which (proximity is important when it should be reached by 5.20 am). After two cable cars, we were at the top of the mountain Speikboden where we met the sunrise. Right after, we jumped off the mountain (with a paraglider in tandem with the instructor).
Practical Info:
We flew with Lukas and Kronfly team, I really advise them. We discovered them from the travel show "Орел и Решка". When we mentioned it to Lukas, we immediately remembered that case and the girl who screamed a lot.
Wear warm clothes for a flight, bring gloves (Luckily, Lucas gave me a spare pair as I didn't have mine). On the top of the mountain, we had a chance to warm up near the fire (I think some local guy did it voluntarily so that others didn't feel so cold).
//
The next destination for that day was Platten and the Pyramids of Earth. Very interesting natural constructions, just look at the photo. These slim towers were formed initially hundreds of years ago by massive storms. They persist until the big boulder from a harder material succeeds to balance on the top, protecting the tower from the rain. Then the towers collapse, but from the slopes also new ones are being created.
The place is not crowded and quiet.
Practical Info:
///
After Platten, we headed to Tre Cime Natural Park named after three distinctive battlement-like famous peaks. On the way, we stopped at Vista Panoramica Tre Cime Lavaredo to enjoy the mountains from a distance. It's a good place for a picnic.
Lots of hikes around Tre Cime starts near Lago di Misurina, so we drove there. This day, we made a small hike of about 5 km, (which took us 4 hours with stops). If it wouldn't get dark when we just made a half, we would continue to go up.
Practical Info:
Parking is difficult right near the lake. There are parking slots near the hotels for guests, near the grocery store for 1 hour. There is a paid parking area as well (2 EUR per hour from 8 am till 8 am, otherwise free), but there are only a few free spots there during the day. Lots of cars parked just along the road (where there is enough space). It is free and relatively safe (I didn't see any accident).
The closest grocery store (small one) is near the lake, the second closest one is 30 min drive (stock the necessary things before).
The track we chose for hiking started in a forest, but later we walked on shaky stones. This route is not for beginners; good hiking shoes are a must.
There are several hotels around the lake, but they need to be booked well in advance (especially during high season). We decided to stay in Camping Alla Baita (need to pay for a tent, persons and a car (to avoid the last one, leave the car in a parking area near the lake). There is no person to whom to pay from 11 pm till 7 am. Camping's conditions are poor: no hot water, dirty bathrooms.
Day 4 – Tre Cime di Lavaredo
This day was dedicated to hiking around Tre Cime di Lavaredo (the Drei Zinnen) which is probably one of the best-known mountain groups in the Alps. After breakfast in a bar of the grocery store (delicious buns), we departed in the direction of Rifugio Auronzo. There is the main route around Tre Cime and several branches (it took us 6 hours for a slow walk with several stops).
Practical Info:
The last 5 km of road to Rifugio Auronzo is a private road (25 EUR per car).
Be on the bottom of the road to Rifugio Auronzo before 8 am if you drive with the car. We were there at 9 am and we couldn't go. The traffic cop directed us off the road because of no parking space left on the top, although parking near Rifugio itself covers about 300 cars (in my calculation). Thus, we parked the car as on the day before (on the road) and took a bus.
Bus departs from Misurina lake at 8:30, 9:10, 10:35, 10:40, 11:00, 11:30, 14:00, 14:40, 15:35, 16:25. The queue for that bus counted about 150 people, if not more. Luckily, there were two buses with an interval of 5 minutes, so we got on the second one. But lots of people stayed to wait for a bus 20 minutes later. Tickets can be purchased on board (4 EUR). The disadvantage of being without a car is that you need to be on time for the bus back (of hike 7 additional km). We were, but again deep in the queue. Luckily, one additional bus appeared (although it was not scheduled) and we went down to Misurina.
There are several restaurants in rifugios (but remember, it is the most expensive part of Italy).
Move away from the main road and visit the place on the bottom right part on a map above. The view is astonishing.
Tre Cime was the crowdest place visited in the Dolomites.
Afterwords
You may wonder why we did many turnarounds and drove back and forth. The only reason is that we wanted to be in particular places on particular days (including my birthday and paraglide flight). You may change the route and take the traditional Dolomites Circle.
There are many other beautiful places (Lago Sorapis, Cortina d'Ampezzo, Lago di Carezza, Marmolada mountain, etc) which I plan to visit next time when in this region (I definitely want to come back).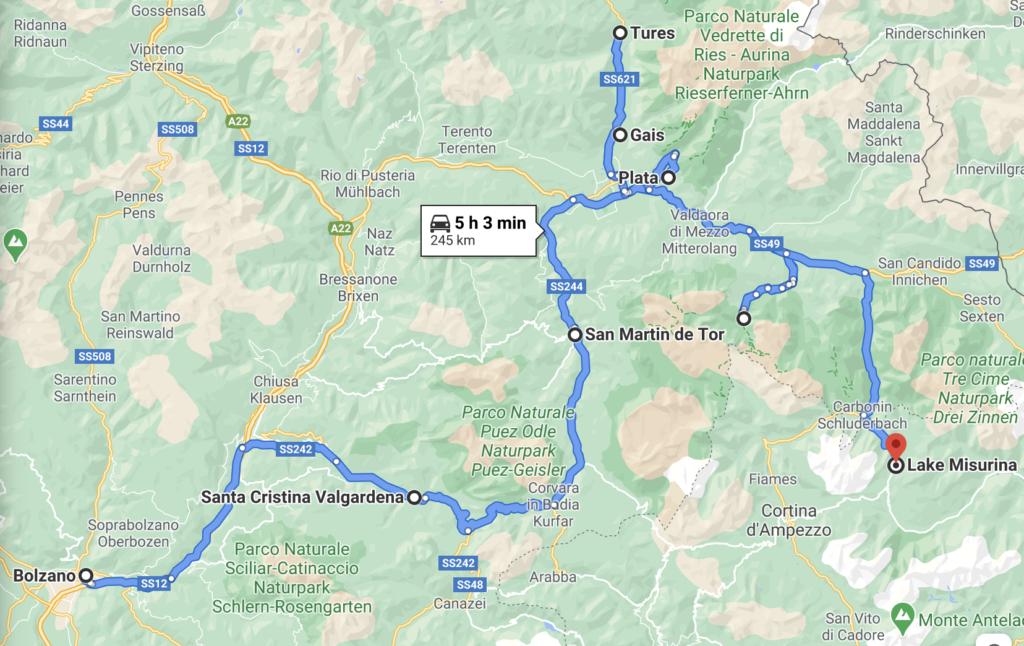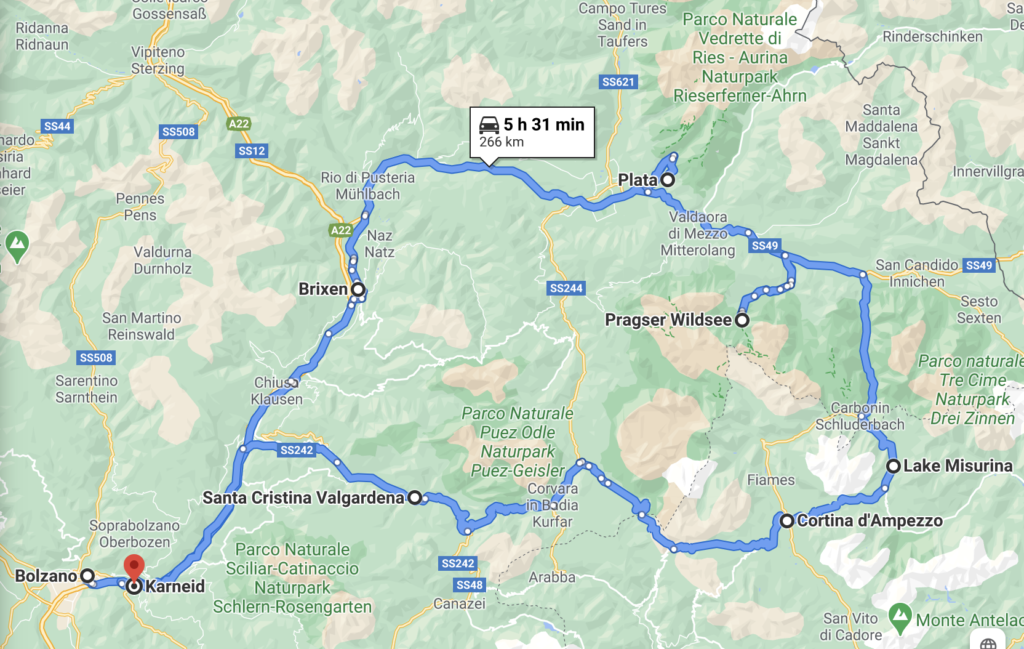 All described here reflects the situation as for August 2020, post-COVID summer with a much-decreased number of tourists.
Thanks for reading and have a nice trip to Dolomites!