Continuing the tradition of travel notes, this blog post describes my feelings and impressions about Corfu after I visited it in 2021. I hope it will be useful for people who haven't been there and will help to plan an amazing trip to get the most from this Greek island.
Intro
New summer means new travel for me. August 2021 will be remembered as an unexpected and unplanned trip to Greece. The initial plan was to visit new places on the Italian Amalfi coast, but Covid restrictions made the adjustments to our trip. So, hello Greece! Or – Γεια σας Ελλάδα [geia sas elláda].
First thoughts about Greece that usually come to mind: ancient culture, Greek philosophers and Gods, hundreds of islands, bright sun and blue sea. I haven't been to this country before, so the exact place to visit was randomly defined by plane tickets. This is how we landed in Corfu. 
Corfu, let it be!
Located on the northwest of the country, Corfu is known as an emerald island. It is famous for its large amounts of olive trees and is considered one of the greenest islands in Greece. Its nature is beautiful and very diverse: pebble and sand beaches, stone cliffs, waterfalls, and even mountains (with the highest point of 906m – Mount Pantokrator).
Good things to know about Corfu
It's not 2020 anymore, but COVID still influences travelling. I think before 2020, there were even more people. It's better to plan the trip in advance to get good offers.
As our trip to Corfu was spontaneous, we couldn't book a car, although I wrote to more than 10 different car rentals. 
About transportation: moving by bus is manageable, just be ready that the bus might be late by 20 min. The comfortable and clean buses connect all big towns and many small villages (tickets are purchased from driver or conductor). There is a moovit app with the timetables, it is useful to plan connected routes. But: based on my experience, paper timetables on bus stops were more precise (once, the app didn't show early bus, although it was written on paper timetable and, in reality, the bus appeared). Bus tickets usually don't cost more than 3-4 euros.
Corfu is a good place for snorkeling: you can enjoy marine life and discover many kinds of fish and sea urchins. Take your equipment with you, or you can easily buy it on spot.
Beaches are open to the public, usually there is a free shower, no WC though (out of all beaches we visited, only on Spiridon beach near Acharavi town we met one). 
It's very popular to rent scooters (moped bikes) and ATVs. Prices start at 20eur per day. But you need to have at least A1 category for small scooter and B category for ATV. In very touristic places (like Paleokastritsa), it's better to arrange booking in advance. Also, rentals prefer to give vehicles for more than 1 day. In Paleokastritsa, we haven't succeeded in renting a scooter for one day. Usually they said "come in the morning", but when we came, there was nothing left.
In all more or less populated towns on the coast, they offer many activities to diversify your beach vacation: boats, catamarans, SUPs and other water fun.
Surprising things about Corfu
The first feeling when coming out of an airplane: how hot and humid it is! But you get used to 38°C and blazing sun after a couple of days.
Crystal clear blue water – no additional comments about it, just enjoy and relax floating.
Many accommodations have outdoor swimming pools and sunbeds, free to use for guests (and sometimes you only need to order at the bar to use it, without living there). It's really cool (pun intended) to be there during the hottest hours of the day.
Greek coffee is the same as Turkish coffee. Many local sweets are typical Oriental yummies: baklava, nougat, turkish delight, kazinaki, etc.
Personally, it was interesting to try reading Greek words on the shops, buses, menus, etc: all these Greek letters are like flashback to school math and physics lessons.
The north part of the island is about 5 km away from Albania in the narrowest place. You can catch Albanian mobile operators from there, be careful with EU-only roaming.
Towns are not pedestrian friendly (except capital Corfu and one place in Paleokastritsa). There are no sidewalks, and sometimes I didn't feel safe walking closely to fast driving cars and scooters.
Garbage along the big road creates sad feelings. Why do people throw bottles and litter just out of car windows?
Toilet doors usually don't have a lock on it. It is kind of ok in a hotel room, but it is also in restaurants and it feels very weird.
There are so many free roaming cats walking almost everywhere in towns. Most of them are homeless, but they are so cute!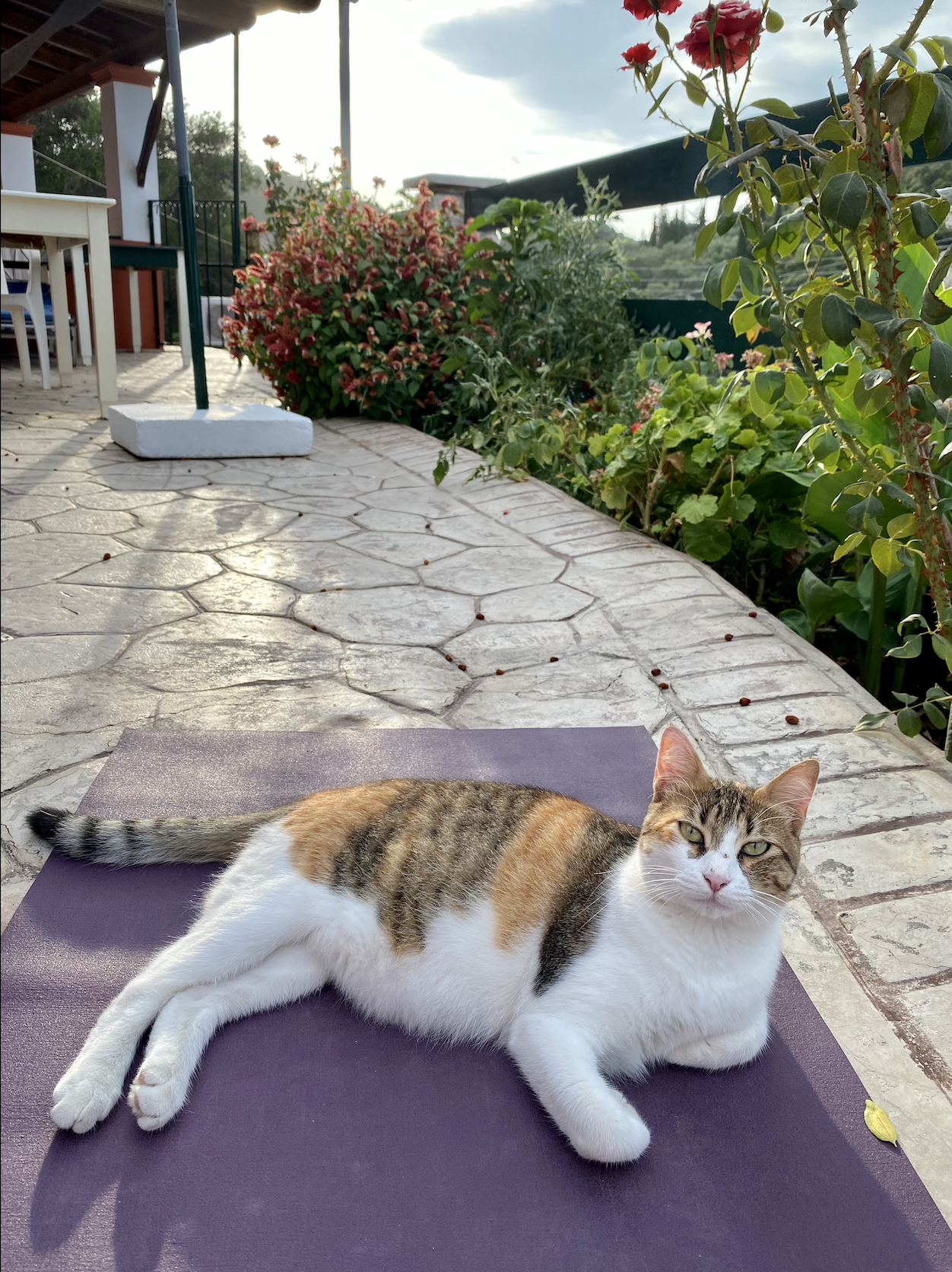 Places
We visited many places on Corfu: Sidari (spent most of our time there), Paleokastritsa, Afionas, Kassiopi, Acharavi, Corfu city, Ipsos. The list reflects the order of my personal preferences.
Sidari
Greeks speak good English there. Taking into account the number of British-speaking tourists, it looks like a favorite place for tourists from the UK. The must-see landmark in Sidari is the Canal d'Amour – the tunnel through which, according to legend, the couple should swim to "be together forever". It is a very romantic place. When we were there, one guy proposed to a girl – even strangers applauded them. The nearby area is the best spot to catch the sunset in Sidari.
Sandy beaches are all along the whole Sidari coast, so it doesn't feel crowded (especially if you go further from the city center).
In Sidari many restaurants and bars have signs: a pool/sunbeds are free for clients. You can buy coffee/juice/beer and enjoy sunbathing in a more comfortable way.
From Sidari, you can easily reach Cape Drastis (with a boat, for example) – a good place to swim and make amazing drone video shoots. 
Paleokastritsa
It is a very beautiful place, mostly because of its beaches and the monastery on top of the hill. I love nature there: there are so many flowers everywhere, birds on the trees and fish in the sea!
The main beaches to chill, relax, enjoy the sun and water are:
Agios Spiridon is the most famous, it has one of the most recognisable views from Corfu. There is almost no wind, no waves, but not much free space as well.
Agia Triada has bigger waves and more things to discover while snorkeling in the sea.
Agios Petros is a nice place to enjoy the view of the evening sun setting behind the cliffs. 
In Paleokastritsa, people were more cautious about covid, more people in restaurants/rentals wear masks, in hotels as well. In shops it's not only written, they ask you to wear a mask (very different to more relaxed Sidari).
The must-see place in this town is La Grotta beach. There is a tiny place to swim and jump into the sea and the bar. Usually, it is crowded. But here is a trick: come early in the morning, when the entrance door is closed. You can just get over the low fence and take jumping photos without people in the background. We were there from 8.30 am till 9 am, right before opening hour; the staff already started to arrive, but they didn't say a word to us.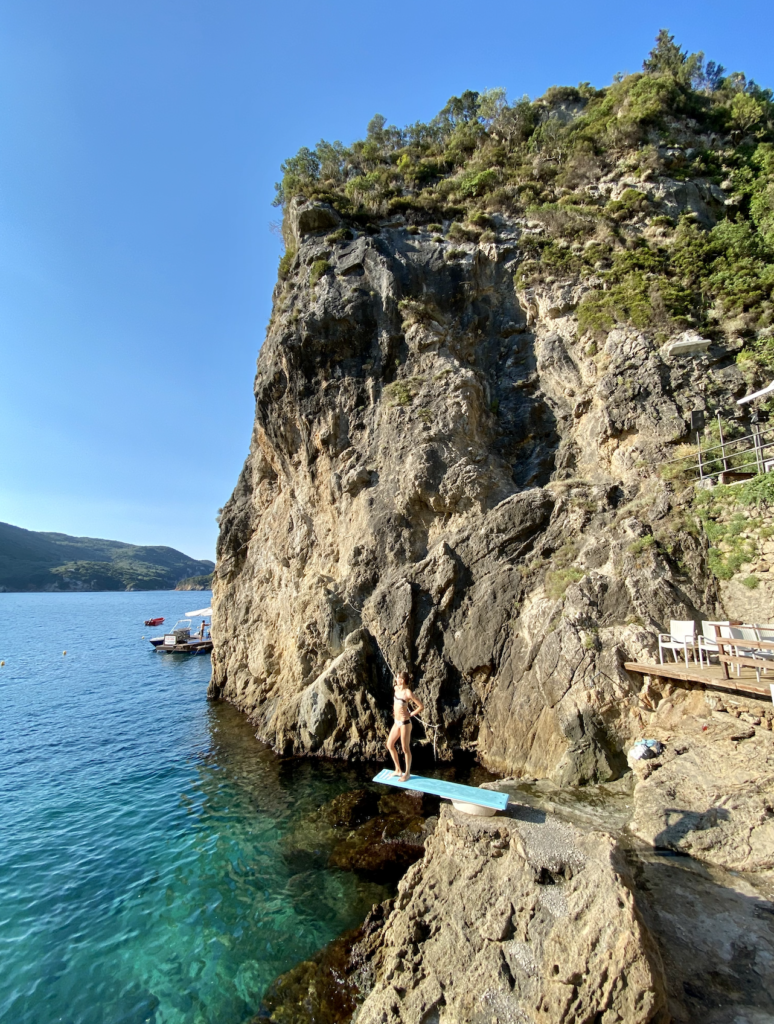 As in many places, there are many options to rent a boat. From what I've seen, in Paleokastritsa, the prices were lower, 50-60 per day (compared to 50 eur per two hours in Sidari). But be ready, that the wind can change your plans. With strong waves, the boats are not allowed to leave the bay.
Corfu City
If the places described above are perfect for beach holidays, Corfu town is a place that can offer two main things: old Venetian fortresses (dating back to the 16th century) and Kanoni peninsula (with its landmark church and planespotting). I'm not a fan of fortresses, so they passed me by, but I spent lots of time in Kanoni. I really enjoyed watching planes descending right above my head and taking off across the mountains. Very exciting views! 
Another reason to come to Kanoni is to visit the tiny Vlacherna Monastery (it's a very recognizable place, they often put it on the postcards from Corfu). You can also get to the small Mouse Island Pontikonisi from there by boat.
Other places
Afionas
One of the most magnificent Corfu landmarks – double beach Porto Timoni – is located in Afionas. You need to hike downhill first and uphill on the way back on a rocky surface for about 30-40 minutes, but the place is definitely worth the effort! Plan your trip to see the sunset there or just spend the whole day enjoying one wavy seaside and one calm side with warmer water. But be very careful with hiking and don't rush walking, I hurt my knees there after I walked too fast.
Kassiopi 
If you are a fan of luxurious yachts, you will enjoy watching them in Kassiopi. There is a dock in the city center with lots of them. Also, the picturesque promenade leads from the center to beaches which can accommodate different tastes (with waves and without, more sun and more shadow). The pebble beach where we've been to was not very crowded and we enjoyed lots of different fish in the water. If we had more time, I would definitely explore Kassiopi more.
Nymfes Waterfall
Before visiting this place, I should've read comments on Google Maps. I didn't expect that due to hot weather and lack of rains, the waterfall would disappear. It was the biggest disappointment during my stay on Corfu. The place itself is quite nice, like a jungle, but the teeny-tiny water jet doesn't create this feeling of being on the waterfall. We met there one more couple who also expected to see a different view. So, if you visit Corfu not during summer times, you will enjoy this place. Also, the road leads through lovely town Nymfes, it deserves at least a short stop to observe cute small buildings and narrow streets with cats. 
Ipsos
Ipsos looked like a party place: lots of young people, the loud music in the evening. When we walked at 7am near the sea, some people were just returning home from parties and one group was still dancing on the beach. One of the reasons to come to Ipsos is to visit the Sugar cafe patisserie and taste the cake Politiko. Try it once and you fall in love with it forever!
To be honest, I didn't like the town itself: lots of garbage on the beach and noise.
Outro
Our trip did not cover the whole Corfu island. We investigated a lot of the north part, but the south was missed. One random person whom we met in Paleokastritsa and had a small talk with mentioned that the sea on the south is not so pleasant, there are lots of seaweed there – things to keep in mind when traveling during summer. 
There are different options for what to do near Corfu: there are plenty of ferries from Corfu to other islands, to Italy and Albania.
Corfu is just one of many Greek islands. On the way back home, we flew through Santorini and spent a day in Fira – a white ethereal city looking like a marshmallow on the deep blue sea. There are many beautiful places to investigate in Greece and I will be back!